Be they at the intersection of innovation, marketing relevancy, storytelling and one of a kind experiences, these selected locations we stumbled upon in 2016 played a big part in shaping how our team, at Clausette.cc, envisions what the future of retail might bring. From digital born brands to more traditional ones, their unique take on the point of sale reveal the many ways in which brick-and-mortar is far from being anything but boring.
Anthropologie : the « back to the roots » experiential retail concept
First of our list of destinations displaying the right formula, for what the store of the future must look like, Richard Hayne's Anthropologie is a retailer where experience actually means something. This elevated brand, which targets women, is actually aiming at providing a highly curated experience, where they control most of it, serves as a platform for an authentic lifestyle concept, built around its apparel offering baptized « life stage » retail at URBN, its parent company. A philosophy at its core since founded in 1970. In a nearly 30,000-square foot concept store, which recently opened in Walnut Creek (California) in a former Barnes & Nobles store, Anthropologie also combines under the same roof dining, beauty (a beauty nook with products and tools from more than 90 brands), a shoe store featuring styles from more than 50 brands, as well as 12 full-scale build-outs of living space, home goods and a « design centre » where shoppers can flick through fabric swatches for custom furniture, peruse wallpapers sample books, plus, receive a consultation from a « home stylist ». What makes this location so special is its ability to turn back to the heritage, the very nature of the great original department stores : a retail destination that not only attracts foot trafic but compels the customer to carry on with their shopping for more than 30 minutes. A come back to its very purpose, with a twist, since URBN also uses its digitalized footprint to gather insights  in order to determine which categories resonate deeply with the Anthroplogie customer.
LN-CC : the customer-centric destination that doesn't want to sell anything
After being bought out of bankruptcy by Milan-based The Level Group, Fashion retailer LN-CC reboot its store and website. Well known for curating a balanced mix of high-end labels like Rick Owens and Lanvin with younger, streetwear brands from London and Japan, the concept store comes up with a new experience, but keeps focusing on stocking innovative brands as well as exploring additional marketing tactics including events and online activations. What makes LN-CC such a singular destination is its approach to retailing : it's a store that doesn't actually want to sell you anything.
"I don't want to be sold to when I walk into a store. Don't sell! No! Because that's a turn-off. Build an amazing brand experience, and then it will just naturally happen." Angela Ahrendts, Head of Retail, Apple.
Certainly sticking to the same vision as Apple's Head of retail, London's Late Night Chameleon Cafe is an appointment only boutique and private event space, an approach that leaves more time to think more about how better serve customers and create both memorable and outstanding lifestyle-oriented experience inside the store, using it to articulate its unique worldview. Specifically designed to keep customers in the store for longer, LN-CC freed itself from the transactional nature of stores and transformed into a cultural and social hub, increasing brand affinity and strengthening customer loyalty.
Joyce : the beacon of coolness that is an ode to freedom and indie Fashion
"In a world where there's a lot of product and brand and movement of creative directorship, being small and having a focus on detail, and being dedicated to what you do, has real value to it now. The integrity of being true to yourself is now being realized as very valuable. » Andrew Keith, President of the Lane Crawford Joyce Group
Part of the Lane Crawford empire since the early 2000s, Joyce is mainly about uniqueness and individuality : a devotion to creative and financial independence in Fashion, a very important take on the industry in a day and age of a constant musical chairs game at the head of the Creative directions of many great Fashion powerhouses. Joyce hosts brands like Rick Owens, Dries Van Noten and Courrèges, which personify the face of Fashion's anti-establishment, an appealing approach for the modern consumers, who prefers to go bak to smaller stores, where the staff knows you and what piece you bought last season. People now have a fascination for things that have to do with skills and tradition, clothes that aren't a simple knock-off of an already seen everywhere piece : Joyce allows, in its very own way, a rediscovered focus on craftsmanship which tends to come back at the front-stage of the Fashion business. This concept store sticks on working with designers that have a very distinctive aesthetic and have been true to their very own vision of things. It's a place created to gather the ones who have managed to remain independent, kept being creative and free, which are important dimensions appealing to the modern Fashion aficionado. Located in Hong Kong, Joyce is present in a part of the world where there has been a huge shift in the appreciation of Fashion, with a more sophisticated kind of consumer, more aware of very interesting indie brands, which has become a part of displaying one's knowledge and coolness, giving this person an insider positioning.
Todd Snyder's NY Flagship: the Ralph Laurenesque « skillfully built fantasy »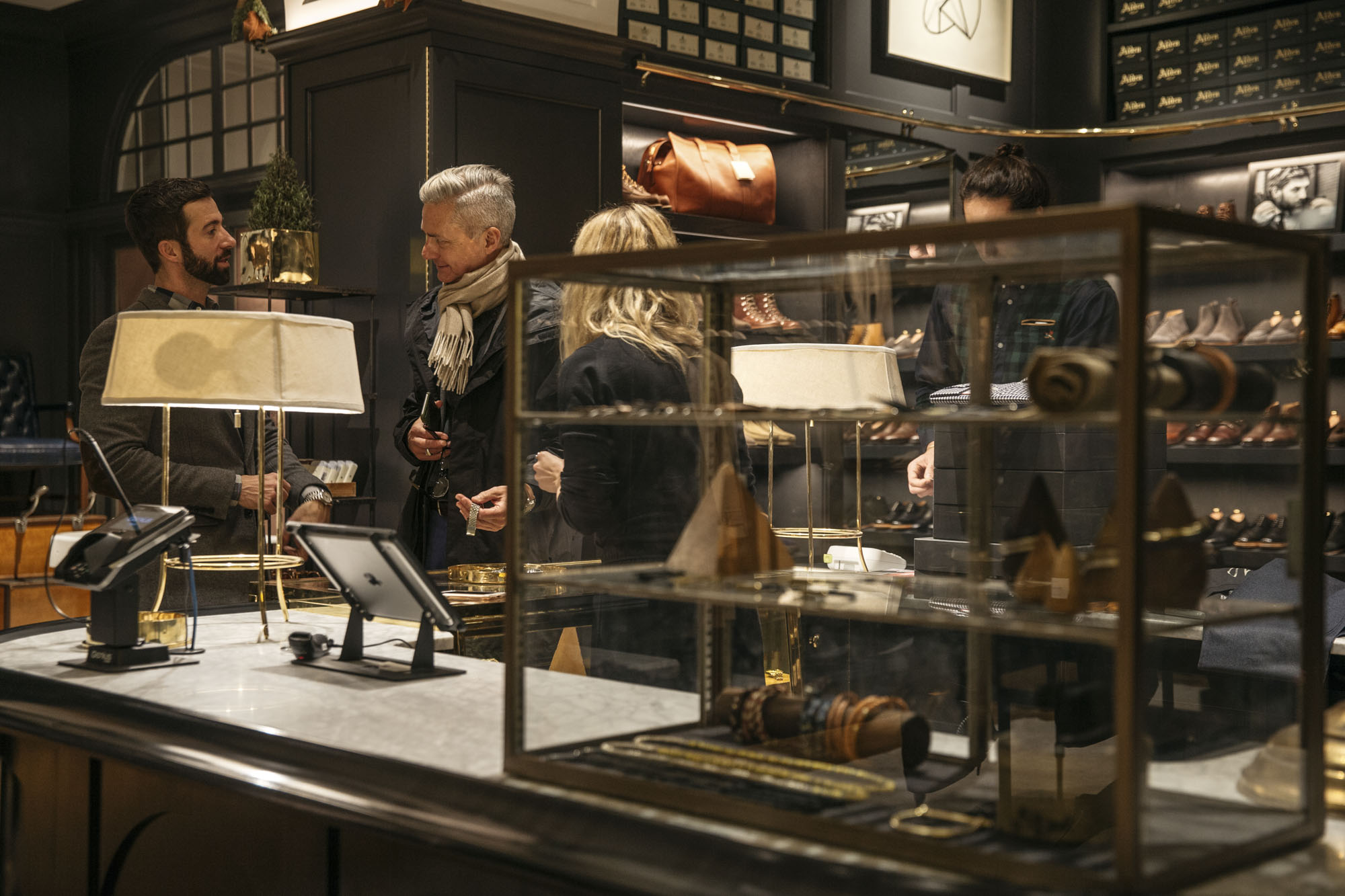 « The measure of a good Manhattan menswear store is whether a fellow approaches it consumed with fear —fear that he won't leave without spending (pick a number) $1,000, $2,000, $10,000. Whatever is much too much. By this metric, the new Todd Snyder New York Flagship at 25 Madison Square North is a huge success. »  Troy Patterson, Writer for Bloomberg
In this hungry for your wallet store, dedicated to menswear, you end up discovering that everything is up for sale. From the furnishings to the marketing experience itself, everything was built, imagined and designed to make consumers believe this world, this lifestyle can be theirs. This superstore is the embodiment of the brand, of its very own take on style and, as 49 year old designer Todd Snyder likes to believe, of other brands that relate back to it. Designed for a man that doesn't care too much about Fashion, encouraging men to think of themselves as « urban poets » or « urban athletes »; the location offers a real cross brand experience, through things like collaborations and in-shop shops, from a café/bar, a luncheonette, to a Persons of Interest barbershop and a Mascot in-house optical shop, which are brands the Todd Snyder consumers tend to regularly consume from. This shows a peculiar attention to consumers insights and behavior by the brand, which skillfully used these to create a place specifically designed to receive the brand's ideal consumer, catering to its very specific lifestyle, tastes and needs. Paving the way to the future asks more than a savvy use of digital and technology. More importantly, this customer centricity and unique approach to shopping efficiently shows how menswear brands could differentiate themselves and create appealing, relevant experiences, giving more depth to the brand and providing more meaning to the pieces bought.
STORY: the UFO putting storytelling at the heart of the retail experience
As its name says, STORY is about stories. The concept store takes a magazine point of view: editorializing the shopping experience, changing like a gallery and selling like a store. How? Every four to eight weeks, STORY completely reinvents itself (from design to the actual merchandise) with the goal of bringing to light a new theme, trend or issue. Created by Rachel Shechtman – former brand consultant for Kraft, TOMS shoes and Lincoln – the concept store is born out a simple idea : displaying how a whole new story comes to life for every pop-up collaborations she does. Yes, collaborations: between the store, a brand, an artist or even a media who bring a whole collection of products brought together through a common creative & narrative vision. The idea is that the retail concept serves as the matchmaker between brands and consumers, integrating strategies of marketing, merchandising, and business development. A daring bet that she managed to successfully win thanks to bringing in the social media strategy principles such as the 3C's into retail is a good way to start : content, community and commerce. Internet & social media brought a new rule to the game: be real or be gone. And it's how Shechtman considers her business, the idea isn't to bring people products like you can have in traditional stores. It is about making them live and belong to a common story, in order to offer customers a whole new shopping experience, where they get to discover new things, interact with their favorite brands through new licensing visions and partnerships.
Let there be awesome stories and unique aesthetic discoveries! Let there be dreams coming true for customers and something more valuable than transactions! Let there be purpose! Let there be light!
---
To keep up-to-date with our activities and content, register for our FashTech Bytes Newsletter, follow us on Snapchat, Twitter, Facebook, Instagram & Pinterest for our latest FashTech updates.
---
Post written by Allan Joseph, Co-founder, Branding Strategist & Menswear Editor
After graduating from Toulouse Business School in 2012 and having multiple experiences as a Freelancer during 3 years, Allan works currently as a Strategist for Be Angels Agency. Specialized in Luxury marketing & advertising, he collaborated to the notorious book « La Génération Y et le Luxe » and joined Clausette Magazine in December 2015.